MasterTemp® High Performance Heater by Pentair Pool Products
Enjoy a fast, efficient, compact, quiet, safe and eco-friendly solution in a
MasterTemp Pool Heater… No matter what you're seeking in your swimming pool heater, MasterTemp® measures up. Compare this list of features to any other and you'll see why MasterTemp is setting a new standard for total value.
Extremely compact design for such a high-performance heater allows for smaller overall equipment pads that won't intrude on your poolscape.
A fully pre-mixed system with a highly efficient air and gas mixture lets MasterTemp heat up fast. No long waits before enjoying your pool or spa (refer to line graphs below for indicative heating times).
Compare energy efficiency ratings and you'll find MasterTemp at the top of the list. Comfort and economy can go together.
With a hot surface ignition (no pilot light) and pushbutton, digital controls, MasterTemp is as easy to operate as your home heating system. Plus, user-friendly indicator lights make system operation and monitoring a snap.
The easy-to-view, rotating digital display places controls front and center, no matter how MasterTemp is positioned on your equipment pad.
MasterTemp is engineered for super-quiet operation and won't intrude on your poolside leisure time.
A tough, rustproof composite exterior handles the heat and weathers the elements.
Eco-friendly, MasterTemp is certified for low NOx emissions and outperforms industry standards.
Safe operation is assured through a series of features, including; a water pressure switch that senses the pump is running to prevent overheating; high limit switches assure the heater turns off if water temperature exceeds factoryset limits; manual gas shut-off when service is required; stack flue sensor also guards against overheating.
Approved for installation on combustible surfaces.
Don't be left out in the cold with heaters that don't measure up to today's longer list of must-have features. Insist on MasterTemp and you're insisting on better performance and lifetime value.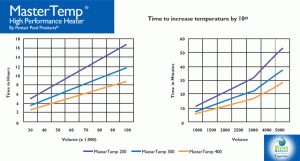 Safety & Heater Protection…
To meet relevant gas codes, a
pressure relief valve
(45psi) is required to be fitted if the water from the Pool or Spa can be shut off 100% to the heater either by valve or any other means. Failure to do this can result in damage to the gas pool or spa heater.
» Download the Apollo 10-322 and 10-512 Series Safety Relief Valve PDF
or
contact us
for further information.
A
flow switch
is required when the location of the heater is either 1 metre higher or lower than the pool water surface otherwise the pool's pressure switch may not operate correctly. The flow switch is an ideal secondary safety system to protect your pool heater.
» Download the 626 Flow Series PDF
or
contact us
for further information.
Important note: When installing new gas appliances (or even when replacing existing gas appliances whether they are natural gas or propane – LPG) your gas fitter is obliged to give you a Certificate Of Compliance. This is required under the Gas Codes.
For further information
Trade Resources
» MasterTemp Heaters Manual (PDF 3.1MB) » MasterTemp Indoor Installation Manual (PDF 2.3MB)
MasterTemp Flue Kts and Accessories
Hi-Tech Gas Services has a comprehensive range of 304 grade stainless steel flue components making the installation of a MasterTemp Pool or Spa heater easy indoors. Whether it is installed in a plant room, garage, filter box, garden shed or just undercover, we have the fittings available now. Browse products by viewing PDF below.